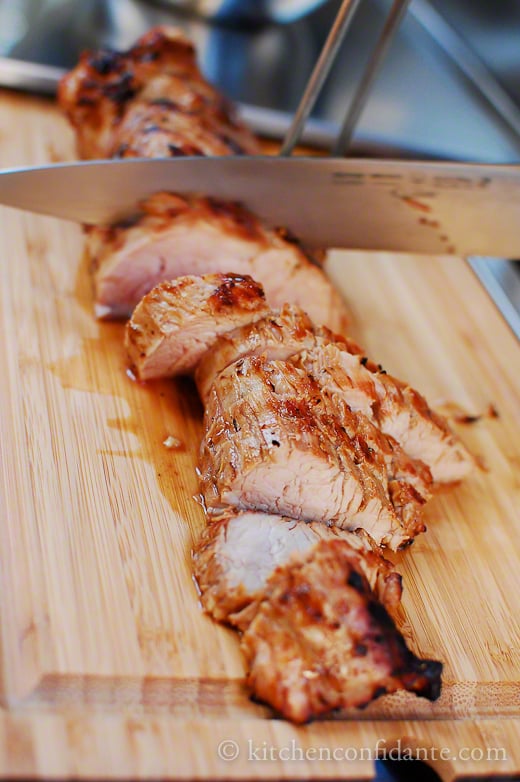 Photo Courtesy of Kitchenconfidante.com
Last night, Greg and I took our first adventure in grilling a pork tenderloin. I was a little intimidated as it was a more expensive cut of meat and all the reviews say that if you do it right, its one of the juiciest and tender pieces of meat that ever existed. Eek! No way I could mess that one up! Therefore, I pawned the job off on my grilling stud of a husband. Seriously, he has mad skills. And needless to say, he cooked the meat flawlessly. So flawlessly, that the meat was indeed some of the juiciest, tender, and melt in your mouth meat that has ever been cooked in our tiny humble abode. SO good, that this recipe will be one that is written on a recipe card and filed away in the recipe box. And shared with the world, naturally.
Again, found this recipe on Pinterest (surprise, surprise) and it was SO easy! Not to mention, it can either be grilled or baked, depending on your access to a kitchen/grill.
What You Need:
4-5 garlic cloves, finely minced or crushed

2 tablespoons balsamic vinegar

2 1/2 teaspoons coarse salt

1/2 teaspoon freshly ground pepper

2 tablespoons olive oil

2 pork tenderloins (about 1 1/4 pounds each)

2 tablespoons canola oil
What To Do:
Stir together garlic, balsamic vinegar, salt, pepper, and olive oil in a small bowl. Rub the paste all over the pork. If you like or have the time, marinate overnight. If not, no worries, it will still be great!
***I chose to marinate mine all night and just dumped everything in a large Ziploc baggy. Once I made sure that everything was mixed, I put the pork in and made sure that it was covered. If you're going to be putting it in a baggy to marinate it, make sure that all the air is out of the bad completely before you seal it. It also won't hurt to double bag it in case you spring a leak. Put it in the fridge and let it sit!
Grill Preparation:
Sear the tenderloins on all sides then grill for about 20-30 minutes, rotating every 10 minutes, until the internal temperature is 160 degrees. Try to let it rest before slicing.
If you're a grill novice like me, then you might wonder how to "sear" the meat properly. So I looked it up. Lucky for you, I'll give you the brief run-down of how it goes:
Clean your grill

Oil your grill with Canola oil (not olive!). It's easiest to just put some on a paper towel and rub it over the grate.

Turn your grill on its highest setting

Let it Pre-heat

Put your meat on, and quickly close the lid. Rotate it after a minute until all sides are seared.

Turn your heat down to commence the rest of the grilling. We had to turn ours down to almost our lowest setting in order to not over cook the meat.
Oven Preparation:
Preheat oven to 400 degrees.
Heat canola oil in a large, heavy saute pan over medium-high heat. Working in batches if necessary, add pork, and brown all over, about 4 minutes.
Transfer pan to oven. Roast pork, turning occasionally, until the internal temperature is 160 degrees, about 20 minutes. Transfer pork to a cutting board, and try to let it rest 10 minutes before slicing.
What we paired with this meal:
Sweet potatoes (we chose to load ours us with butter, brown sugar, and marshmallows. Reallllllll healthy. We know.)

Boiled Broccoli

Sister Shubert's Wheat Dinner Yeast Rolls. A regular dinner favorite at our house.